Idole de Lubin
Much has already been written about this new scent, the 466th from the centuries-old Paris house of Lubin. Founded by Pierre-Francois Lubin in 1798, the house of Lubin quickly gained renown in Paris. Lubin scents were worn by Empress Josephine and Princess Borghese - Napoleon Bonaparte's sister. Lubin fragrances made their way to America in 1830 but seem to have faded between then and now. The creation of Idole, however, may be just what was needed to conquer the New World again.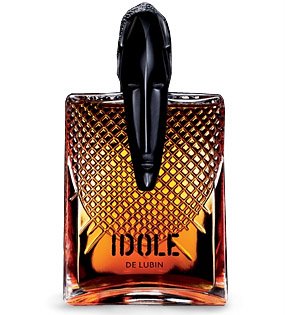 Created by Olivia Giacobetti, Idole is truly a wonder. This scent was created to evoke travels in wondrous, faraway places. I can't pick just one place. One moment I am lying under the stars in the desert, with a nomadic tribe, a sweet-wood fire and air much cooler than I expected after the heat of the day. In another moment I am in a bazaar, with the scents of cumin, saffron, woods, leather all swirling around me. Another sniff brings me to the edge of the jungle, with its fecund mysteries - beauty and danger. By the drydown, I am back home in my imaginary library. I am surrounded by the scented souvenirs I picked up in my travels, looking through photos in my big leather chair by the fireplace, with my very own ebony mask hanging on the wall.
Listed notes: Rum absolute, bitter orange peel, saffron, black cumin, doum palm, smoked ebony, sugar cane, leather and red sandalwood.
If Cumin in a fragrance scares you, don't fear it here. It must be the particular type of cumin in Idole (black cumin) that does not give the sweat accord. This is a very soft cumin, almost a hint of fresh cumin from a distance, carried on a sea breeze. The sandalwood is simultaneously sweet and powerful, a note that touches your heart, yet you don't quite understand why. Rum and bitter orange in the beginning are stunning and immediately transport you to another world. Leather in the drydown has a comfortable air of old money.
When I first tried this fragrance I thought it might be better suited for my husband - all the woods and rum felt just a tad masculine to me, but the more I wear it, the more I love it. This is a fragrance for a woman who is sure of herself, a bit worldly and sophisticated, and maybe on the intimidating side. Or for a woman who just wants to smell like that.
Olivia Giacobetti's fragrances include some of my favorites: L'Artisan Dzing!, L'Artisan Safran Troublant (another masterful use of saffron) and several other amazing L'Artisans. A few for Diptyque, including my favorite Philosykos, Hermes Hiris and many more. For a more complete list, visit
Now Smell This: Noses
.
Idole de Lubin is now available at
Luckyscent
in Los Angeles and online,
Beautyhabit
online and
Luscious Cargo
, in New Smyrna Beach and online.
Many thanks to Colombina of
Perfume-Smellin' Things
, Robin of
Now Smell This
, Victoria of
Bois de Jasmin
and M. Giles Thevenin of Lubin.

Today's Fragrance: Idole de Lubin.