Camping
You would think that somebody who has spent, literally, months living in a tent in various campsites would be an expert camper. Not so.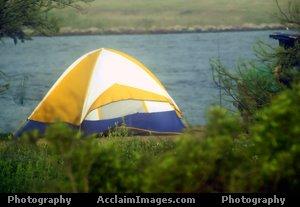 Every summer I think I should take my family camping. Then I am stricken with a sudden feeling of inadequate camper-ness. Where would we go? What do people do when camping? What do they eat?
In the time I spent camping, I was living in a tent somewhat out of necessity. With my friends on our way to Alaska. Or with my husband, basically doing the same thing a couple of years later. So the tent was basically "home base" and we mostly slept there. We ate a lot of sandwiches and dry cereal, with real meals provided for us by local restaurants.
I know how to make a campfire and heat up Campbell's soup, with s'mores for dessert. But people talk about Going Camping like it's a vacation and this to me is mystifying. I don't like the KOA-type places, with video arcades, swimming pools and hoe-downs. The idea of camping to me is to sort of rough it, live outside for a while. But what do people eat? What do they do? How do they make entire meals on a campfire? Do they have special equipment? Where does the coffee come from, if not the Dunkin' Donuts outside the campground gates?
*Sigh* I need a lesson on camping.