What would you do
if you woke up at 4am and saw a gigantic scary black bug on the ceiling directly above your head?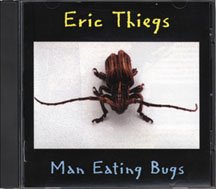 1. Go back to sleep, hoping everything is find and have nightmares about gigantic scary black bugs dropping onto your face in your sleep. BUGS...ewwww.
2. Get out of your nice warm bed, go into the kitchen, get a glass and a piece of paper, go back into the bedroom, catch the gigantic scary black bug and release it into the 15-degree weather outside. I mean, I am a 21-st century woman, right? I can handle a bug.
3. Wake up your sleeping husband who spent all day Friday in the emergency room of the local hospital to rule out pneumonia...and make him get up and get rid of the gigantic scary black bug? Isn't that what we keep the men around for? Bug patrol?
4. Other (explain in your post)
What do you think *I* did?
Today's fragrance: Napa Valley Boheme. I really like this spicy floral oriental fragrance, only wish it had better lasting power. I sprayed it on generously less than two hours ago and I'm barely smelling it now. It definitely stays close to the skin, little or no sillage (waftiness). I personally like to waft. Listed notes are: Top notes of Bergamot, Lemon, Pepper, Rosewood, Neroli and Galbanum.
Mid notes of Rose Geranium, Orris, Lily, White Rose, Bulgarian Rose, Carnation, Grandiflorum Jasmine (Egyptian), Honey, Lilac and Clove Bud.
Base Notes of Tolu and Peru Blossom, Benzoin, Siam and Virginia Cedars, Amber, Sandalwood, Frankincense, Patchouli, Myrrh, Tobacco and Tree Moss.

That's a lot of ingredients, but it's a well-blended scent. The interesting thing about scents with a lot of ingredients is that they tend to shine differently on different people. It has a bit of an old-world feel, as if maybe it would have been popular with black & white movie starlets. I love galbanum in fragrances, but the top notes are fleeting. By the time it dries on my skin, we're into the middle range. Lovely rose and orris with a hefty dose of clove & carnation and a touch of sweetness from the honey. I also get a definite tobacco feel throughout. The drydown is a bit more woodsy/ambery - an earthy context for the spicy floral, which remains. Overall, I think this scent is a slightly dangerous old world glamour scent. Like a beautiful woman with a dark side. I only wish it lasted a bit longer.