Yad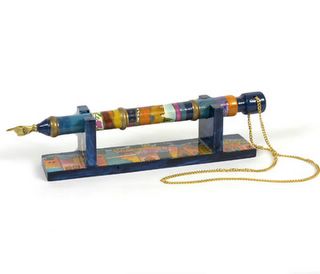 It cost me $52 to fill my gas tank this morning and I drove here, ranting in my head thinking - Oh, nobody is going to want to read my blog at all any more if all I do is bitch. But I had to stop on the way at the Judaica shop to pick up a gift for my cousin Rachel, who is becoming Bat Mitzvah tomorrow.
I had seen the signs on the highway but had never stopped in to this particular store. I always get a little nervous walking into Judaica shops because, although I have been a Jew my entire life, I don't know all that much and feel a bit out of my element. But this morning I walked in and saw a beautiful selection of kiddush cups, menorahs, seder plates, Roah Hashanah stuff, and I felt this instant, soothing connection with my ancestors. Our people have been using this stuff for thousands of years. The holidays, traditions...they are part of me and where I come from. My ancestors died defending the right to live our lives in peace and practice our religion. I always say for me Judaism is not a religion, it's a culture and a tradition. It's a connection.
I don't always agree with the way things are done though, and definitely have problems with some restrictions placed on women in the past and even now in the more "traditional" sectors. People make their choices, and have all their reasons to do so. I just like having the freedom to choose for myself.
As I walked around the shop, guided by a knowledgeable, extremely friendly and helpful sales assistant, I felt soothed by the beauty and the atmosphere. I began thinking of what would be an appropriate gift for a 13-year old girl on the occasion of her Bat Mitzvah, and remembered that, at least a few years ago, the first woman to ever become Bat Mitzvah was still alive. This is a staggering thought to me still - that in my grandparents' time, women were not allowed up on the bimah, nor to read from the Torah. Even on the occasion of my own Bat Mitzvah, in a Conservative synagogue in 1983, I was not offered a chance to read from the Torah. I read from the Haftorah only. I didn't fuss about it then because I didn't know any better, and quite frankly had enough to do already. Bat Mitzvah means literally, "Daughter of the Commandments."
I wonder if Rachel knows that for thousands of years women were not allowed to participate in this mitzvah. I often think 13 is a crazy age to have this ritual of passing into adulthood, with the kid up there smiling through braces and hoping she gets a bunch of money to blow at the mall, but 13 it is. I bet that it will take her a while to appreciate fully this occasion, or to really understand what it means. It did for me.
I ended up choosing for her a beautiful hand-painted wooden Torah pointer (yad), by Israeli artist Emanuel (picture above). Since we are not allowed to touch the Torah, we use the yad to keep our place when we read from it. I thought it was a meaningful gift to give a girl who, not so many years ago, would not have been allowed to point at the Torah, let alone read from it. I hope she appreciates it...I'll let others give her money to blow at the mall.